(We'll see if I can come up with funky 70's songs for titles every day this week, lol.)

Let me just start by saying that I have really good kids. They might not seem like they're listening, but they are. Yesterday, I had to tell them that their Pokemon watching time had to be limited. I'm not really much on limiting tv too strictly. We have certain shows that we TiVo and they pretty much watch what they want. They get a lot out of watching a show over and over and over, so I let them. Sometimes, I'll tell them to turn the tv off because they've been watching too long, but for the most part they self-regulate. Cameron's really good at it. He knows that if the tv is on, he'll watch. So he's frequently the one to turn the tv off so that he can play with his LEGOs or something else without being distracted by it.

Anyway, they have been watching nothing but Pokemon for at least a week. Every episode on the TiVo list (5 of Pokemon and 5 of Pokemon: Diamond and Pearl) every day. They would even try to sneak in watching them two or three times. They were on Pokemon overload. They had the entire script to this one episode memorized and would just repeat this one scene over and over and over until it drove me over the edge. They are now limited to one episode of Pokemon and one episode of Diamond & Pearl a day. So this morning I had a v.e.r.y s.l.o.w start to the day and when I finally got up and out of the shower, I found them watching... Time Warp Trio! I said, "Hey, you haven't watched that for a while!" and Cameron said, "Yeah, we already watched our two Pokemon shows, so we decided to watch this instead." Gotta love a kid who follows the rules even when no one is watching.

School today was delayed until about 3:30 because we had a 4-H project meeting in the early afternoon. It was our EcoArt project and for it we made cute little coasters out of recycled yogurt lids, old aquarium rocks, and plaster of Paris. We also made matching trivets out of cottage cheese container lids.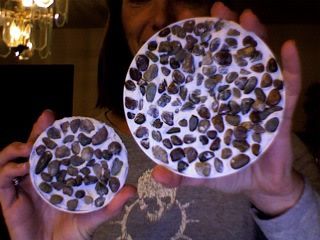 The kids all seemed to really love the project. Yeah! I even heard that some girls were bragging about them in the ladies' room to the people in the other project that was working there! LOL. It's nice to hear stuff like that because I always feel like such a dork when I'm leading. I guess I'm doing something right. :)

But back to "official" school... Cameron did half a phonics lesson on silent u after g (as in league); a page of math Practice (which took at least an hour); and a Grammar lesson. The Grammar lesson was something different for a change. I reread the story about the Hen and the Golden Eggs pausing after each sentence for them to pick out the nouns. It was pretty funny though because Cameron was insistent upon naming the type of noun it was, as well as the actual noun. As in, "egg - thing, man - person." When I told him that he didn't have to say the type, just the actual noun, he just started saying, "thing, thing, person" and just couldn't quite grasp that the person or thing was the noun and not the literal words thing and person, lol. He finally got it, but I thought it was kind of funny.

And finally, at 5:30 pm, we got to LEGO Science. He finished up the Wheels & Axles kit and is now happily exploring the extra builds in the teacher's guide. I was planning on finishing this up last week and starting in on MPH Science 4A this week, but I'm thinking maybe we should wait until after Thanksgiving to start it. Maybe, we should even wait until our Winter Quarter. I've heard the math in 4A is pretty tough. I haven't had a chance to sit down and look at it yet. Maybe I'll do that tonight so I can make a decision.

Anyway, that was our day. How was yours?