What a great day we had today! The official compartmentalization of our unschoolish day is as follows: Fine Arts, Music, Literature, Economics, Architecture, Math, Science, and Physical Education.

We started the day with a play called Suessical! It was so much fun. The kids loved it. The adults loved it. The babies loved it (and eating crackers and crawling all over the empty seats in the theater). I was watching Cameron's face and at first, he looked a little skeptical. Kind of like he was thinking, what the heck is this and why are they singing? but he really got into it and thought The Cat in the Hat, especially, was hilarious. As soon as it was over, they asked when we could come see another one.

We were watching a performance for school kids and our homeschool group had purchased a block of tickets. There were four other families in our group and I found it quite nice that we knew them all!! I have a theory about our group. There seem to be "do-ers" and "not do-ers" and all the "do-ers" seem to go do the same things! When we first started participating in stuff, I noticed that it was always the same core group of about 5 or so families (out of the approximately 200 in our hs group) that were always at these events. We've eventually gotten to know them through field trips and 4-H and park days and I've realized that that core group of "do-ers" is probably about 10 or 15 families... but I just think it's funny that those of us who do stuff, do everything! LOL. Or maybe I've just found the core group of people with interests similar to our own. I actually did see a couple other families that I knew from 4-H who were there with the local charter school, so maybe there's another group of "do-ers" who just "do" with the school. But anyway, that was Fine Arts, Music, and Literature. I guess it was Social Studies too. ;)

Next we went to our favorite park day and stopped for sandwiches at a local deli along the way (Economics). Park was the usual fabulous time with fun, friends, baseball, Polly Pockets, and the sand box. The sand box is always popular but today it got some special attention. I'm not sure how it started, but check out this creation.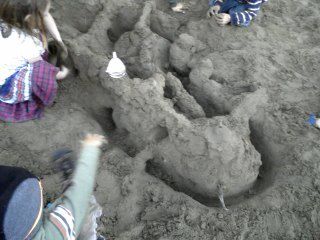 Here are the proud builders (Actually this is only the second shift. First shift of architects had to leave early):



And one more shot for good measure:



The pictures don't really do it justice, but it was the coolest sand castle ever. They worked on it for hours. Some kids, like Cassia and B6, worked the entire time. Others, like Cameron and J4, would go off to play baseball or hide-and-seek for a while and then come back to it. They worked together. They worked separately. There were wooden bridges, a multitude of tunnels and spired towers. They captured dragons in the moat and protected the castle from dangerous volcanoes that erupted (and babies that loomed) just outside the castle walls. It was truly phenomenal. So that was Architecture, Math, Science, P.E., Interpersonal Relations, History, etc., etc., etc. (And speaking of Social Studies, notice the kid on the bike in the background. He wasn't with us, but he stood there for close to an hour just watching. He never said a word and didn't want to join in. He just watched and watched and watched until his mom said it was time to go.)

It was a good day at the park and a very good day for Shadowlight Academy. :)